From systems that diagnose, like a magnetic resonance imaging (MRI) machine, to implantable devices that treat patients, like pacemakers and implantable cardioverter-defibrillator (ICDs), highly reliable electronic components are necessary. While the functionality of these devices is quite different, the challenges associated with designing these devices, such as selecting failsafe electronic components designed for lifetime reliability and ensuring supplier partners can meet industry-specific standards, are shared. Let's look more closely at some of the industry-wide challenges associated with electronic component selection for medical devices as well as some of the application-specific decisions medical device designers need to make to ensure these devices function consistently and reliably for the long term.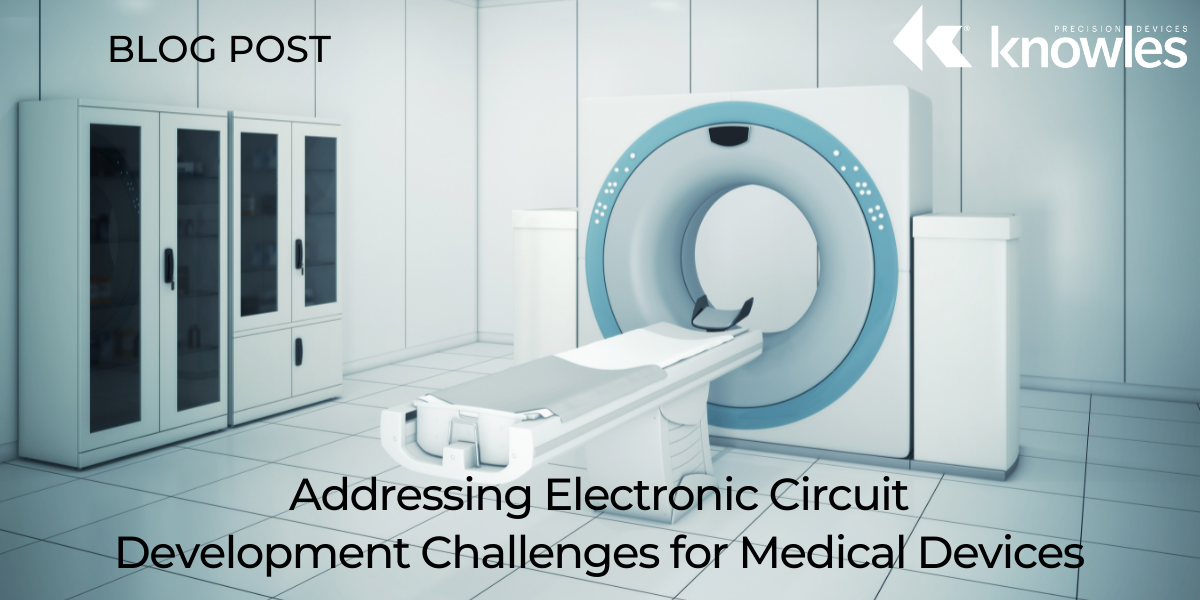 Working with Your Supplier to Meet Regulatory Requirements with High-Reliability Components
Medical device manufacturers are highly regulated by agencies such as the International Standards Organization (ISO) and the US Food and Drug Administration (FDA) to maintain the highest level of reliability. But this burden shouldn't fall solely on medical device designers. Instead, device designers should make sure the tight controls placed on them for the design, development, and manufacture of these devices are also being met by the suppliers they select for electronic circuit components such as multilayer capacitors (MLCCs), single layer capacitors (SLCs), and trimmer capacitors.
In addition to preventing device failure by selecting a supplier dedicated to providing high-reliability components, medical device designers need to be sure the electronic components selected comply with a variety of industry-specific specifications. The two main specifications for most medical components are MIL-PRF-55681 and MIL-PRF-123.
From medical implantables to MRI machines, there are some additional application-specific challenges for medical electronics that must be considered when selecting electronic components. First, there are many sources of conducted and radiated electromagnetic interference (EMI) that can potentially disrupt the function of implantable medical devices. To eliminate EMI and reduce the risk of throwing off a device such as a pacemaker, medical device designers should consider using a feedthrough filter made from a multilayer planar array or discoidal capacitor. These capacitors with feedthrough filters are used for filtering at a connection point to ensure that unwanted noise, such as EMI, is eliminated, preventing issues like voltage spikes.
Another common design challenge is with MRI machines since all the components used in or around the machine must not exhibit any magnetism. This is challenging because a standard MLCC may contain a base-metal-electrode (BME) made of nickel, or the dielectric and electrode may use a nickel barrier finish to prevent solder leaching at terminations, yet nickel is ferromagnetic. To create a reliable and stable non-magnetic MLCC termination, two options we recommend using include a silver palladium (AgPd) sintered termination or a copper barrier layer.
Medical device designers need to ensure the electronic circuits they design for their devices meet requirements and regulations to ensure the equipment will maintain lifetime reliability. To be sure your electronic components will not be the cause of issues with your device in the long run, talk to a specialty components manufacturer, such as Knowles Precision Devices, at the beginning of your design process.
To learn more about the challenges discussed in this post, read our article recently published in Electronics Weekly.