The Knowles Precision Devices DLI brand of microstrip bandpass filters offers innovative filter topologies yielding excellent performance in a small footprint when fabricated on high DK temp stable ceramic substrate materials. Since our customers use our surface-mount filters in a wide range of applications, we've designed our devices so they can be used on most RF PCB materials. To ensure our customers achieve optimal performance and are successful with our filters, we have compiled a number of best practices and resources, which are outlined below.
Referencing Recommended PCB Layouts
Every Knowles Precision Devices DLI brand filter has a variety of resources readily available on the bandpass filters page of our website, including copies of the recommended PCB layout files like the example shown below.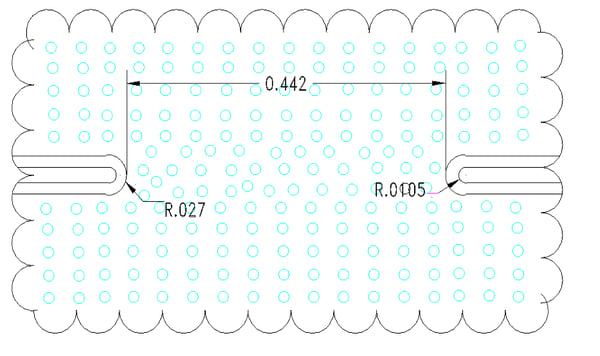 On this page you can find the filter you are interested in by searching using either the actual filter name or frequency ranges, shown below. The "design files" column for every filter includes all the available resources with the information you need to guide you through the best practices for the space needed to properly mount your filter.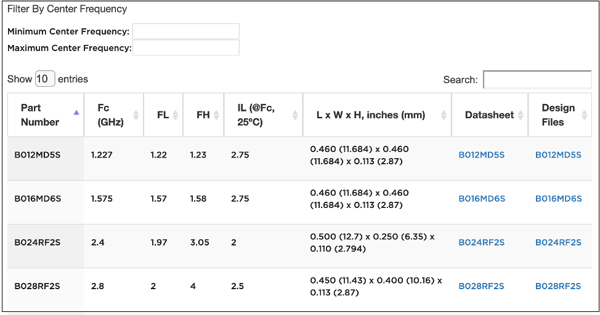 Solder: Less is Generally More
One of the most common issues we see when a customer is experiencing performance below what was expected is that too much solder was used to mount the filter to the board. In general, we recommend a finished solder thickness of 2-3 mil. Using more solder than this can negatively impact RF performance. For the best performance that will come as close as possible to matching the measured S parameters provided, we strongly recommend downloading and following our surface mount filter guidelines.
If for some reason your manufacturing process requires your filter to be mounted in a way that different than our recommendations, particularly in terms of the amount of solder needed, please contact us. Customer success is our priority and we'd be happy to work with you to adapt the filter design to meet your production needs. Our solutions in these instances could range from implementing solder dam material on top of the filter to protect the unprotected gold areas to adding an epoxy via fill.
Contact us to discuss any questions you may have about our surface mount filters.