At Knowles Precision Devices, we purposely avoid commodity components. What we thrive on is doing the hard things. We handle the specialty components that go in systems that cannot fail and that operate at extremely high voltages, temperatures, or frequencies. Do you have a complex technical challenge with hard-to-meet performance, size, or other requirements? Bring it to us. It's what we do.
While we have some historical Industrial business, we focus on four key markets: defense, medical, telecom, and automotive. Each of these industries has a need for high performance components in moderate volumes.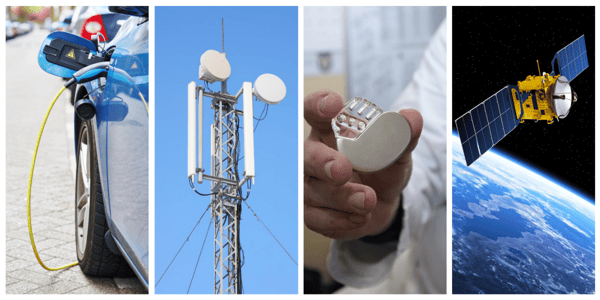 For military radar and electronic warfare equipment, for example, there is a premium on really small filters that can operate at high frequencies with excellent rejection, and our custom ceramics allows us to do that. We've been developing high-performance microwave components for military applications for 40 years, honing our specialized expertise in ceramics and thin-film manufacturing to meet even the most stringent requirements.
In the medical market, our high-reliability capacitors are rigorously tested to ensure they can perform fail-safe in implantable medical devices such as pacemakers, diabetes monitors, and cochlear implants. Medical equipment is highly scrutinized for quality and safety, throughout development and manufacturing, to ensure long-term success in the human body. In alignment with regulatory requirements, our operational processes, encompassing testing and quality assurance, are tightly controlled. We are also the market leader in variable capacitance devices and nonmagnetic caps for Magnetic Resonance Imaging applications.
For telecom, we are providing High Q MLCs and Single Layer caps to OEMS building 4 and 5G base stations and networking devices. We have years of experience at mmWave frequencies, allowing us to meet the demands of new 5G telecom equipment, including RF filtering in small cells. Our filter technology is a proven approach to addressing the challenge of implementing high performance RF filtering in mmWave applications.
And finally, our high-voltage capacitors are well aligned to the ever-increasing voltage and temperature needs of electric vehicles. Our automotive-grade MLCCs are specifically designed for use in EV electronics and subsystems because of their high temperature ratings, tiny size, and easy surface mount form factor. We offer AEC-Q200 approved capacitors that support voltages up to 4,000Vdc.
Knowles is a collective of experts, including ceramics scientists and electrical and mechanical engineers, who help us accelerate innovation, especially with the materials we use. As a result, we've not only created unique custom dielectrics, but we've also developed patented flexible termination technology, FlexiCap, which improves our response to mechanical stress as well as stacked capacitor technology, StackiCap, which significantly reduces component size.
We choose to take on the complex challenges because of our commitment to supporting innovation and because, frankly, the hard stuff is the interesting stuff. As a result, our products can be found in every corner of the world, from 8000ft below the earth's surface to orbiting 254 miles above us on the International Space Station.
Learn more about our history of supporting practical innovation.