Multilayer ceramic capacitors (MLCCs) are made up of two materials—ceramic dielectric material and metal electrode material. Layering metal electrodes and ceramic dielectrics (Figure 1.) achieves voltages that are capable of producing high electric fields that ultimately allow MLCCs to regulate current flow and prevent electromagnetic interference between components. There are two common electrodes used in MLCCs: precious metal electrodes (PMEs), containing palladium silver, and base metal electrodes (BMEs), containing nickel or copper. Each electrode type holds a spot in the capacitor world for a reason.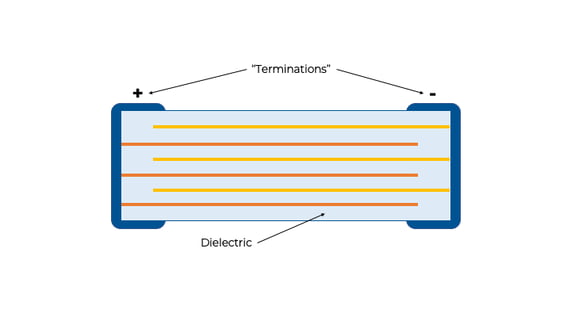 Figure 1. Layers in a multilayer capacitor.
In this blog post, we explore the different characteristics to keep in mind when selecting electrode materials, particularly for a high-reliability application.
Benefits of Legacy PME MLCCs
PME, designed using palladium silver, was the first electrode material established in the MLCC industry. As a mature technology with a long history, PME offers robustness and proven, long-term reliability for all market segments. Its dielectric thickness meets military specifications MIL-PRF-55681 and MIL-PRF-123, which set strict minimums for high-reliability applications.
By design, PME eliminates reliability concerns as early as manufacturing. The thermal process of sintering the electrode and dielectric material in MLCCs doesn't negatively affect PME MLCCs like it does BME MLCCs. To prevent oxidation in the thermal process of BME MLCC manufacturing, engineers must create a sintering atmosphere that aids in lubricant removal, reduces surface oxides, and protects from oxidation. While this action deters oxidation, it reduces insulation resistance at the same time.
Advantages of BME
BME, designed using nickel and copper, is a newer MLCC electrode technology. BME MLCCs offer a more cost-effective option than palladium silver, and the market has embraced this economic value. BME MLCCs account for 99 percent of Class II ceramic capacitors worldwide. Under the right manufacturing conditions, BME MLCCs can meet reliability and performance testing requirements just as well as PME MLCCs.
BME MLCCs have a more uniform microstructure (i.e., grain) that accommodates volumetric efficiency—a higher volume of electrode and dielectric layers, and consequentially, higher capacitance in smaller case sizes. With electronics getting smaller and smaller, their small size is a major advantage.
As mentioned, design requirements and manufacturing considerations for BME MLCCs present reliability concerns; however, there are conditions that prevent untimely failures. Requirements, like minimum dielectric thickness, set standards based on performance studies. If BME MLCCs meet those expectations, the design team can feel confident they'll avoid premature failures. Careful deployment considerations, like avoiding high levels of mechanical stress, also decrease the likelihood of failure.
As technology develops and more performance studies emerge, the high-reliability electronics industry is becoming more accepting of BME capacitors. The Defense Logistics Agency (DLA) created a military specification uniquely designed for BME MLCCs under MIL-PRF-32535, and NASA approved a group of BME MLCCs for use in their aerospace and military programs.
PME and BME: There's a Place for Both
In today's electronic landscape, we still need both electrode technologies. The maturity of PME MLCCs and their proven reliability offer confidence while newer BME MLCCs lead in commercial applications based on cost and size specifications. Over time, we expect BME MLCCs will become more widely accepted as an option for high-reliability applications.
For more information about PME and BME MLCC options, check out our MLCC brochure or reach out directly via our contact page.