As many industries, including RF and automotive, need to incorporate more features in less space, engineers are constantly looking for ways to do more in a smaller footprint. For example, there is often demand for more multi-layer ceramic capacitors (MLCCs) to achieve higher capacitance values while at the same time increasingly limited space is available. Thus, continuing to simply add capacitors inside an application to achieve a higher capacitance value is not a viable option.
To address this problem, Knowles Precision Devices developed a highly reliable stacked capacitor solution, known as StakiCap. StackiCap surface mount MLCCs are designed to provide high capacitance values in compact packages and offer the greatest volumetric efficiency and capacitance per unit mass of any high-voltage X7R ceramic capacitors available.
While StakiCap is a great option to save space while achieving high capacitance values, sometimes a leaded assembly of stacked capacitors is not really a great fit for an application, especially if the card needs to fit into a small space between other boards. Instead, another alternative that allows you to save space while achieving high capacitance values is vertical mounting of MLCCs (Figure 1).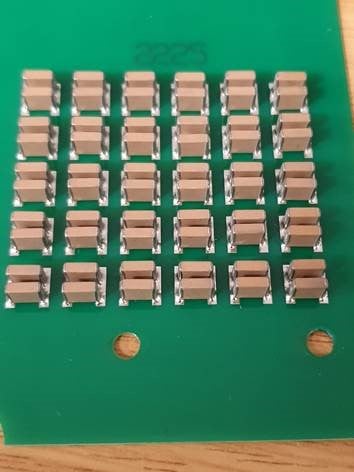 Figure 1. Recently, customers in the automotive industry have successfully saved space and increased capacitance values by vertically mounting a series of capacitor pairs on their side as shown here.
Vertical mounting of MLCCs as shown in Figure 1 has several potential benefits. First, vertical mounting offers cost savings versus purchasing a stacked assembly since stacked assemblies are often more costly to engineer. Additionally, there are also potential mechanical mounting advantages. At Knowles Precision Devices we have tested this vertical mounting approach to 1,500g, while stacked capacitors with leads are only tested to 100g. There is also potentially a thermal management advantage to vertical mounting since this approach places the capacitor electrodes in contact with the pad, avoiding the thermal resistance of leads in a stacked configuration
At Knowles Precision Devices, we have seen customers with high Q requirements in the RF industry successfully use this approach. Thus, we also believe other industries that typically have high Q requirements, such as the electric vehicle market, could benefit greatly from this approach as well.
So, no matter what industry you're in, next time you are looking for ways to increase capacitance for footprint, we think it is worth talking to the experts at Knowles Precision Devices about a vertical mounting approach.
Contact us today to learn how our application engineers can help you to implement a vertical mounting approach.