To provide a better understanding of build-to-print in general and the breadth of our offerings, as well as how our thin-film technology can benefit your applications, we've put together a Build-to-Print Basics series. In part 14 we discuss a range of non-standard testing services our facilities can provide when needed by our build-to-print customers.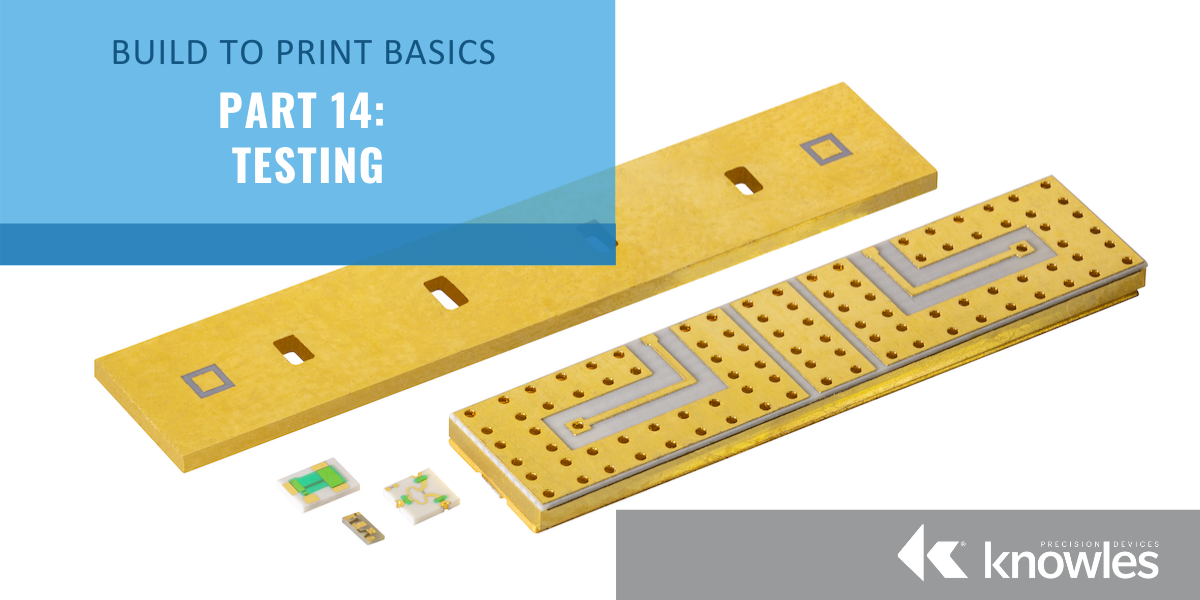 While any testing beyond validation testing is not a standard practice for build-to-print, since we also offer build-to-spec and custom design services in-house, our engineers are well equipped to perform a wide range of tests on our build-to-print products if needed by a customer. From basic quality tests to qualification testing to classified tests some government contractors need to comply with DD254, we offer a wide range of testing capabilities that many of our competitors cannot provide.
First, our engineering staff can create fixtures or perform wafer probing to ensure a compliant design the first time and every time in production. Additionally, our RF testing lab contains a number of thin film substrate and module test fixtures that can be configured to perform non-destructive RF tests on substrates. These fixtures are adjustable in X, Y, and Z directions and can support multiple input/output configurations.
Capabilities such as those described above can be helpful for build-to-print customers in instances where we may be producing parts that have the correct critical dimensions, yet the parts may not be achieving the performance, cost, or lead time they are looking for. In these cases, we recommend turning a build-to-print design into a build-to-spec engagement. In these engagements, beyond providing a drawing of what the part should look like, customers can provide a source control document that specifies the required RF performance. In these engagements, we then will work with the customer to adjust the build process to achieve the specifications required.
Beyond testing to achieve performance specifications, in general, if you need a specific type of test, we can get it done. From basic testing that will help improve yield or various quality aspects of your parts to secure testing for parts that use classified IP, we have the engineers and equipment in one of our two cutting-edge facilities that you may need, and the flexibility to get things done.
In the last post in our build-to-print series, we will expand on how we can develop space grade components and help customers in the military and aerospace industry comply with strict requirements. In the meantime, you can check out the rest of our Build-to-Print Basics series posts to learn more about our build-to-print and thin film offerings.