At Knowles Precision Devices, we are not trying to be your typical commodity component manufacturer. We want to do things that are hard and help customers solve their most difficult engineering challenges. This is why we offer build-to-print services to facilitate thin-film product design, manufacturing and testing from prototype to high-volume production.
To provide a better understanding of build-to-print in general and the breadth of our offerings, as well as how our thin-film technology can benefit your applications, we've put together a Build-to-Print Basics series. Part 1 starts by providing a brief overview of how we approach build-to-print and what thin-film technology actually is.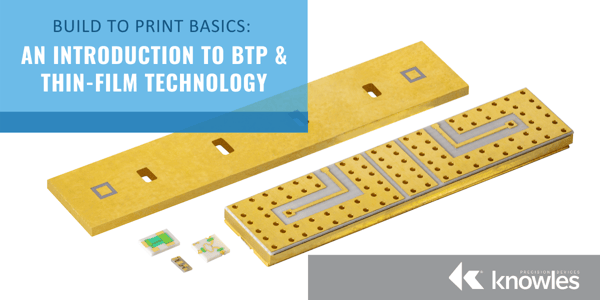 The Knowles Precision Devices Approach to Build-to-Print
Our build-to-print process typically starts with a customer providing us with circuit drawings or schematics. We then use those documents to produce a portion of the circuit to spec using the most appropriate materials (we can also provide much higher levels of service and consultation for custom options, which we will discuss in Part 2). Typical applications we service with build-to-print include the following:
Heat Sinks and Standoff

Integrated Passive Components

Custom Resistor Capacitor Networks

Lange Couplers, Power Combiners

EMI Filters

High-Frequency Filters

Microwave Integrated Circuits (MIC)

Bias Decoupling and Filtering

Lumped Element Impedance Matching Networks

PA Stabilizations

Impedance Matching and Power Combining Networks
A Brief Overview of Thin Film
At a high-level, thin film is a layer of material used to fabricate electronic components that generally ranges from fractions of a nanometer to several micrometers in thickness. Constructing circuits using thin film offers several advantages over other techniques, including the high-precision patterning that can be reached and the ability to make components much more compact versus other material options. This makes thin film a particularly good material choice for high-frequency RF devices where precision and accuracy are essential.
Knowles Precision Devices provides custom ceramics for thin-film development that offer significantly better thermal performance than most industry-standard ceramics. Our thin-film substrates also offer a sufficiently higher dielectric constant (K), which is ideal for miniaturization and temperature-stable performance.
In Part 2 of our Build-to-Print Basics Series, we will look at how our custom build-to-print services can provide customers with an even higher level of support and customization for the most complex applications. In the meantime, you can also check out our Build-to-Print page to learn more about the technical aspects of our offerings.