To provide a better understanding of build-to-print in general and the breadth of our offerings, as well as how our thin-film technology can benefit your applications, we've put together a Build-to-Print Basics series. Part 2 provides details on our custom thin-film process for complex designs.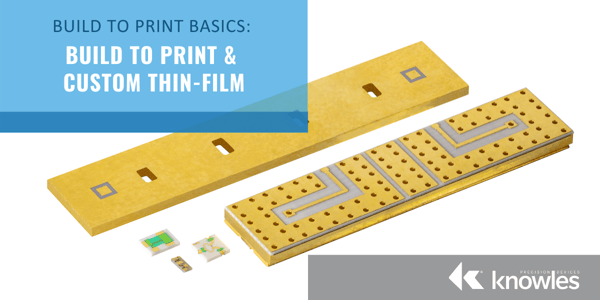 Custom Solutions for Complex Designs
For the past three decades, Knowles Precision Devices has built a reputation as a manufacturer of high-frequency, high Q components that can function reliably in the most demanding applications. Since every application has different needs, we offer a wide-variety of off-the-shelf catalog solutions, build-to-print services, and even the ability to work closely with customers to create custom thin-film solutions. The marriage of ceramic expertise, manufacturing know-how, product quality, customer service, product customization, and clever microwave and RF design engineering allows us to offer this variety, while many of our competitors cannot.
When working with customers to build custom thin-film solutions, we can offer as much, or as little, support as needed. This can range from simply having one of our engineers look at spec drawings to see what areas of the design can be improved upon to us working together with a customer to create a unique design. Customers who want to work with us to build to specification can contact us to discuss your specific application requirements.
In addition to offering our engineering expertise to help customers develop the most efficient and effective designs, we offer a wide variety of substrates to ensure the final component can meet your exact needs. In addition to standard substrates such as polished alumina, we have more than one hundred proprietary and/or patented ceramic formulations that offer significantly better thermal performance than the majority of industry-standard ceramics. The table below highlights the performance characteristics of both the standard substrate materials and custom dielectric materials we build devices on.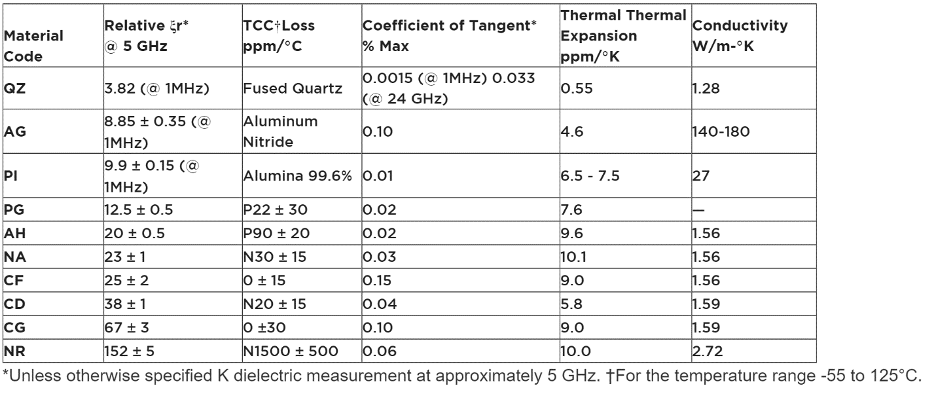 With all our unique capabilities, we offer one-of-a-kind service to meet your needs. Our experienced engineering staff is ready to answer your questions and get started.
In Part 3 of our Build-to-Print Basics Series, we will look more closely at the typical applications where build-to-print services are most often used. In the meantime, you can check out our Build-to-Print page to learn more about the technical aspects of our offerings.
At Knowles Precision Devices, we are not trying to be your typical commodity component manufacturer. We want to do things that are hard and help customers solve their most difficult engineering challenges. This is why we offer build-to-print services to facilitate thin-film product design, manufacturing, and testing from prototype to high-volume production.