Imaging systems account for a significant portion of the medical devices and electronics industry. There is an expanding range of imaging modalities, and one of the most common is magnetic resonance imaging (MRI). MRI equipment uses a strong magnetic field and computer-generated radio waves to create cross sectional images of the body; these images enable health care professionals to investigate and diagnose without the need for an invasive procedure.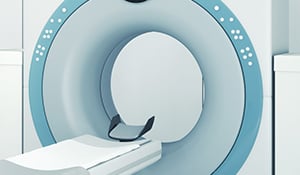 MRI is an application of nuclear magnetic resonance (NMR), a popular analytical technique to determine molecular identity and structure based on biological, chemical, and physical properties of matter. In the medical field, MRI is a multidimensional version of the NMR imaging tool found in most chemistry laboratories.
Non-Magnetic Capacitors
The resolution, or clarity, of an MRI image is dependent on the strength of the magnetic field. Ancillary equipment and magnetic components inside the MRI scanner tunnel can alter the field strength; so, it is vital that components, such as capacitors, are non-magnetic to preserve the desired field strength.
Many capacitors are designed with a nickel barrier finish to maintain solderability. Due to nickel's magnetic properties, these capacitors are not acceptable for medical applications including MRI. Careful material selection is pivotal. Even the smallest trace of magnetic property could adversely affect the quality of the MRI image output.
Knowles Precision Devices (KPD) offers non-magnetic multilayer ceramic capacitors with silver/palladium (Ag/Pd) terminations for medical applications where non-magnetic components are required. In addition, for those looking to meet The Restriction of Hazardous Substances Directive (RoHS) requirement for lead-free solders, KPD offers a copper barrier, instead of a nickel barrier, with a tin finish on top. This alternative is lead-free while avoiding increased soldering temperatures and leaching problems. This type of non-magnetic termination is offered with select non-magnetic C0G, high Q, and X7R dielectrics to provide a fully non-magnetic component.