With the challenges of today's global supply chain, we understand that improving the efficiency of your development process is critical to delivering quality products on time. When evaluating components for use in your product, you don't have time to wait 2–3 weeks for a product sample. And you certainly don't have the time to wait another 2–3 weeks if you discover that the sample you ordered isn't right for your design. That's why Knowles Precision Devices is now offering all-in-one Single Layer Capacitor (SLC) Design Kits for design engineers.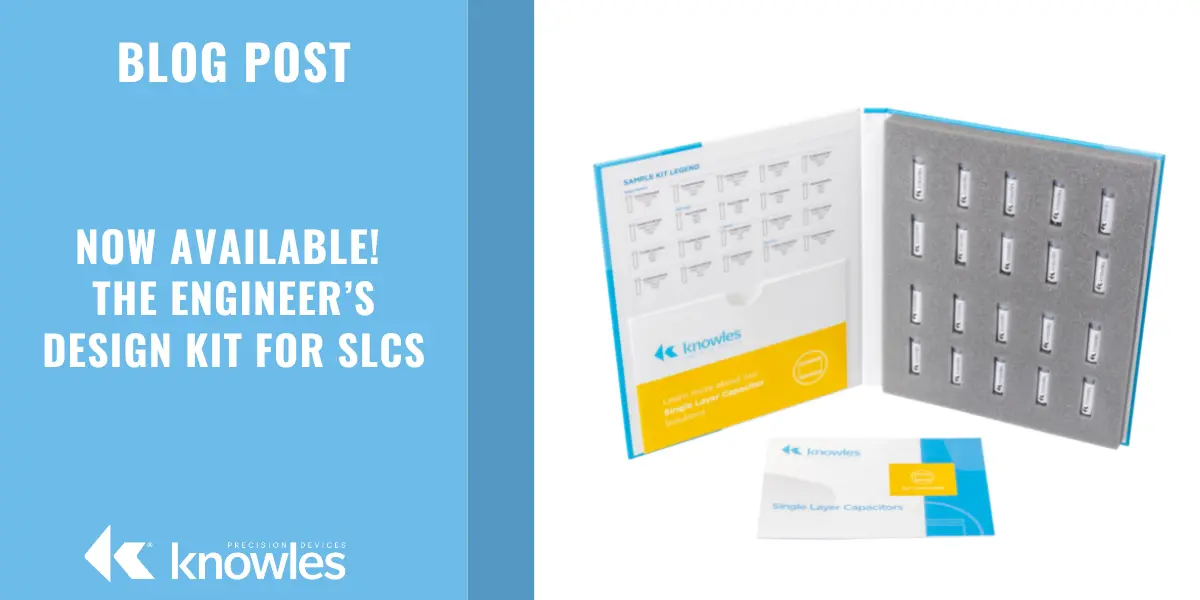 Design With Confidence
With our new SLC kits, you can access samples of our product in a single kit, including some of our SLC part styles, values, and sizes such as the following:
Recessed Electrode (Border Caps)

Features: Wire-bondable, minimizes the potential of shorting during epoxy or solder attachment with recessed electrode design
Applications: DC blocking, RF bypassing, filtering, tuning, coupling

Industry-Leading Broadband Caps (MilliCaps)

Features: Orientation insensitive, solderable, matches 50Ω line widths, industry-standard case sizes
Applications: Broadband/mmWave, test equipment, photonics, SONET, TOSA/ROSA, high-speed data, transimpedance amplifiers
Behaves like an ideal capacitor

V-Series

Features: High-frequency, high-capacitance density wire-bondable, available in 0303 and 0804 sizes with fixed capacitance values from 1 nF to 100 nF
Applications: DC blocking, RF bypassing, filtering, tuning, coupling, GaN and GaAs amplifiers

Gap Caps

Features: Series configured capacitor
Applications: DC blocking, RF bypassing, filtering, tuning, coupling
The table below shows a complete listing of the items included in each SLC Kit.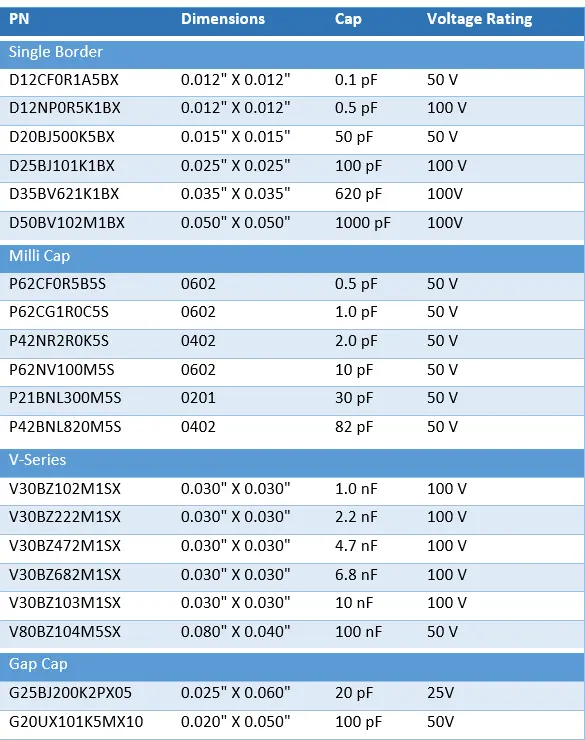 Having a complete range of samples readily available means you can easily find the SLC that will best meet the requirements of your application.
Design Faster
No more waiting for samples. With of our complete catalog of SLCs always at your disposal, you can streamline your design process and build prototypes quickly. You can perform analysis and lab testing on a wide range of SLCs on demand. And your design engineers can evaluate form factor with a simple trip to your part inventory.
Reduce your design time and make adjustments quickly with one of our readily available SLC kits. Contact us to order your SLC Kit today.