High reliability – this is what the industry demands for some of the world's most important devices. From implantable devices going into the human body, to space and military devices, these applications are built to last under extreme conditions. To do so, they are made of high-quality components with appropriate additional testing to ensure long-term reliability.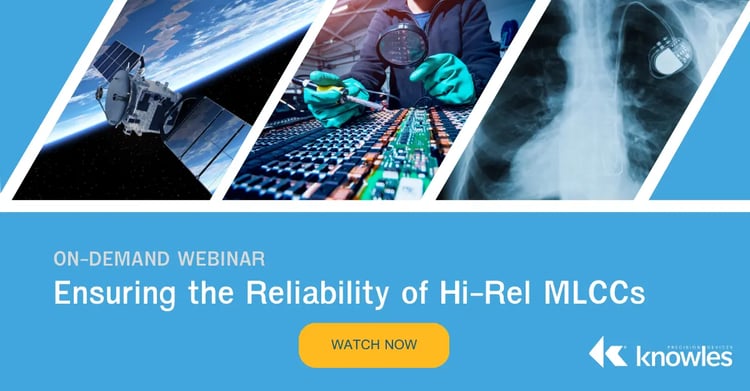 In our latest webinar, we focus on the design and testing of high reliability Multi-Layer Ceramic Capacitors (MLCCs) for use in mission-critical or life-saving applications.
We start by summarizing the basics of MLCCs:
The difference between capacitors and batteries
What MLCCs are made of
The three different classes of dielectrics
Primary uses for capacitors in electronic circuits
Series vs. parallel capacitor set up
Key considerations while designing for high reliability
Then we move into how high reliability components are designed and built for higher reliability and to handle higher temperatures and voltages.
Lastly, we review high reliability testing and the specific testing standards manufacturers must pass before components are cleared for use, such as MIL-PRF-55681 and MIL-PRF-123. We walk you through the testing requirements for military, space, and medical devices to test durability and reliability during extreme temperatures, vibrations, shock, acceleration, and so on.
If you're involved in designing electrical systems for applications such as medical devices or aerospace equipment, we encourage you to watch the full webinar to understand the importance of high reliability MLCC design and testing.
Subscribe to our blog and never miss a post in 2023.