Around the world, 2019 was a busy year for 5G, with standards being finalized, large networks beginning 5G operations, and mobile device manufacturers releasing 5G-capable phones. Just one year after the official launch of 5G on November 1, 2018, the Global mobile Suppliers Association (GSA) identified the launch of 50 commercial 5G networks along with 328 operators in 109 countries that announced investment in 5G. Let's look at some of the big moments for 5G from 2019.
Releasing New Standards and Dedicated 5G Bandwidth Around the World
To operate 5G networks, mobile carriers need dedicated bandwidth. While many countries had available bandwidth for 5G networks in the sub-6 GHz range, the United States did not. Thus, the Federal Communications Commission (FCC) held three auctions in 2019 for upper microwave flexible use service licenses across the 28 GHz, 24 GHz, 37 GHz, 39 GHz, and 47 GHz bands. Similarly, governments in Korea, China, and Europe also opened up 5G bands for purchase, mostly in the sub-6 GHz range.
With regards to international standards, it is noteworthy that the third and final part of 3GPP's Release 15 was announced in April 2019. This evolving standard, where part one was released in December 2017, now provides a complete set of detailed technical specifications for running 5G networks. Additionally, in November 2019, the International Telecommunication Union (ITU) announced at the World Radiocommunication Conference (WRC-19) that it has identified that the 24.25-27.5 GHz, 37-43.5 GHz, 45.5-47 GHz, 47.2-48.2, and 66-71 GHz frequencies will be recognized for mmWave 5G communication globally.
Major Carriers Implement 5G Networks Around the World
As quickly as governments made bandwidth for 5G communication available, large carriers purchased the bandwidth and deployed 5G base stations to roll out their 5G networks. In the beginning of April, Verizon Wireless in the US became the first carrier in the world to introduce 5G mobile service. Their initial launch covered parts of Chicago and Minneapolis, and since then, Verizon has added 5G in 14 other cities across the US as well as 13 NFL stadiums. Other US carriers were not far behind Verizon in implementing their 5G technology, and by the end of July, Atlanta was the first city in the US to have 5G coverage from the four largest mobile carriers – Verizon, AT&T, Sprint, and T-Mobile.
Just one week after the initial Verizon release in the US, SK Telecom in South Korea announced the roll out of its 5G network – 34,000 5G base stations in 85 cities. South Korea saw rapid 5G adoption, with more than 3 million 5G subscribers added in just five months. Additionally, while most of the networks in South Korea are operating at sub-6 GHz, the government is also preparing for the adoption of mmWave frequencies with the release of 2,400 MHz in the 28 GHz band as well.
By mid-April, Ericsson and Swisscom switched on the first large-scale commercial 5G network in Europe, with service initially available in 54 cities and communities in Switzerland. And, in China, the first 5G smartphone – ZTE Axon 10 Pro 5G – was released in May, around the same time the government issued licenses for 5G bandwidth usage. But it wasn't until the end of October when the three big Chinese carries – China Mobile, China Unicom, and China Telecom – launched their 5G networks. According to Mobile World Live, the three operators deployed about 86,000 5G base stations and expected to have more than 130,000 by the end of 2019. There were an estimated 13 million 5G subscribers in China at the beginning of December 2019.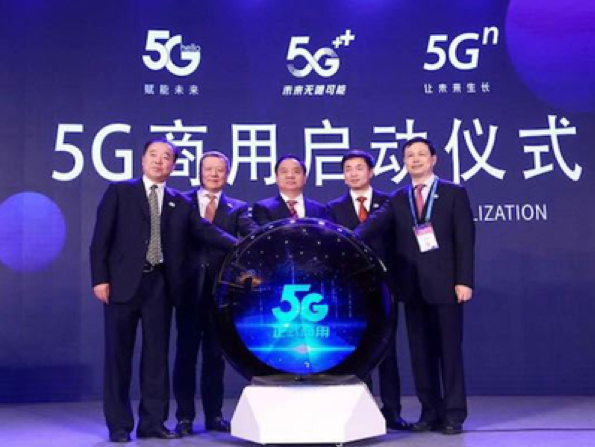 Leaders from China's three largest carriers announcing the launch of 5G networks in China. Source:
Microwave Journal
Smartphone Manufacturers Catching Up With 5G in the US
In China, Korea, and Europe, mobile device manufacturers launched 5G-capable smartphones early in 2019, allowing users to quickly take advantage of growing 5G networks. However, in the US, while the Samsung Galaxy S10 5G was released 2019, with more than 45 percent of smartphone users in the US owning an iPhone, it is likely that consumer adoption of 5G in the US will not be as widespread as it is in South Korea and China until Apple releases a 5G-capable iPhone.
The Samsung Galaxy S10 5G was released in Korea in April 2019 and was also the first 5G-capable phone released in the US. Source:
Samsung
Continued Rapid Growth in 5G Networks and Significant Advancements in 5G Capable Devices in 2020
With the ability to support high-bandwidth applications such as smart homes, 3D video, remote medical services, and virtual and augmented reality with 5G technology, we will continue to see rapid advancement in 5G, especially at mmWave frequencies, in 2020. According to research firm Gartner, in 2020, worldwide 5G wireless network infrastructure revenue will reach $4.2 billion, an 89 percent increase from 2019 revenue of $2.2 billion. Many experts also expect that the number of 5G-capable wireless devices available to consumers, especially in the US, will continue to rapidly grow, and that perhaps even the iPhone will be one of them!
It's also important to note that it's not just in 2020 that the global RF community expects to see rapid advancement and growth in 5G. According to the Ericsson Mobility Report, 5G subscriptions will likely reach more than 2.6 billion by 2025, with 5G coverage reaching up to 65 percent of the global population and 45 percent of global mobile data traffic happening on 5G.
Keep up to date with what's happening in 5G by following 5G topics on our blog.