As a guide to some of the important, yet often overlooked, aspects of mmWave phased arrays, we recently partnered with RFMW and Microwave Journal to produce an eBook covering components, testing, and critical requirements. The eBook features articles from Knowles Precision Devices (KPD) and other industry leaders, including Filtronic, Rohde & Schwarz, and MilliBox.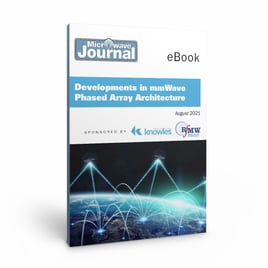 To start, KPD dives into the details with filter options and block diagram placement. Next,
Filtronic offers some perspective on two applications that require over the air (OTA) capabilities: low earth orbit (LEO) satellites and high-altitude platform stations (HAPS). Measuring the OTA performance of infrastructure and equipment at mmWave frequencies, in these applications and beyond, adds spatial complexity to more traditional, connected measurements and offers accuracy and repeatability that was previously unmatched.
Rohde & Schwarz shares how they addressed the complexity of taking accurate OTA measurements by developing a compact antenna test range (CATR). Their solution uses multiple CATRs and has the capability to automate OTA measurements that require multiple angles of arrival. Finally, MilliBox reviews a flexible chamber solution that bridges the gap between traditional and DIY chamber solutions without breaking the budget.