As the demand for more network capacity, improved network performance, and more reliable coverage are all growing, operating in the mmWave spectrum is becoming an increasing more attractive option. To address this demand, the use of 28-GHz small cells, which are compact, lightweight devices mounted on outdoor equipment such as lampposts or telephone poles, is becoming a practical and affordable way to deploy 5G in the mmWave spectrum.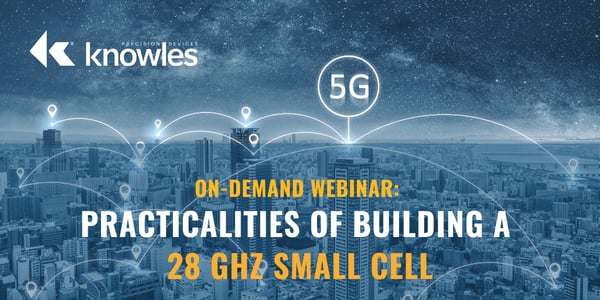 In this this recorded Webinar hosted by Microwave Journal, Knowles Precision Devices discusses the key considerations for building a 28 GHz small cell for 5G applications. In addition to learning about the basic requirements for a 28 GHz small cell 5G application such as size restrictions, thermal constraints, efficiency, power, and cost, this Webinar, also covers the following more advanced topics:
Best practices for filtering in a 28 GHz small cell
Considerations to make when building feed networks
Factors that affect the effective isotropic radiated power (EIRP) in relation to 5G antenna system performance
Additionally, the webinar walks through a 5G small cell reference architecture example that demonstrates the core components that can make or break your system.
Watch the recorded webinar to learn more about 28 GHz small cells.