Turning 5G wireless communication into a widespread reality will require the use of mmWave frequencies. However, there are many of us RF engineers out there that have spent much of our careers working in the sub-6 GHz range, which actually has quite different needs than mmWave. Therefore, it is critical to get a handle on the key differences between working in this range and mmWave frequencies.
Three Key Differences Between Sub-6 GHz and mmWave Operations
First and foremost, the rules and specifications, such as those defined by the 3GPP Specification 3GPP TS 38.104 V17.2.0 (2021-06), are different for mmWave. At a high level, this specification defines the frequency ranges where 5G can operate – FR1 (4.1 GHz to 7.125 GHz) and FR2 (24.25 GHz to 52.6 GHz). It also highlights a variety of additional performance requirements that are important to understand when building mmWave base stations and small cells including base station classes, differences in channel bandwidths, and how to test for and handle unwanted emissions.
There are also a variety of different RF design challenges at mmWave largely because as frequency increases, wavelength decreases as shown in Figure 1.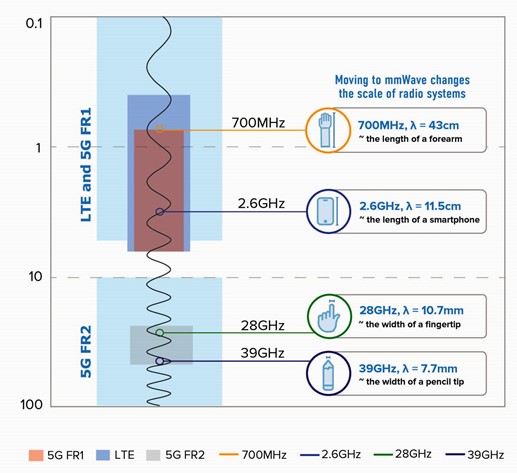 Figure 1. Moving operating frequencies from Sub-6GHz to mmWave leads to numerous RF design challenges.
These challenges include the requirement for small form-factor components that do not sacrifice performance, maintaining dimensional tolerances of antenna and filter technologies, and ensuring temperature stability.
The third big difference between devices operating at sub-6GHz frequencies versus those operating in the mmWave range is the different filtering technologies needed at those frequencies. In general, the lumped-element model does not work well at higher frequencies because manufacturing the necessary discrete values will lead to other issues. Instead, at FR2 frequencies, RF engineers are shifting to a distributed element approach. As a result, transmission line and waveguide-based approaches are the best option.
By developing an understanding of these key differences between FR1 and FR2, making the transition to designing mmWave devices will not seem nearly as daunting. You can read the full article, 3 Things to know when transitioning to mmWave, in 5G Technology World, to learn more.