As an RF engineer, whether you are building a 5G antenna to mount on top of a street light or a satellite that will be launched into space, you are likely being asked to reduce three key factors – size, weight, and power (SWaP). The need to reduce SWaP is becoming increasingly common, but also increasingly tricky, because even though wavelength and the corresponding critical dimensions decrease as frequency goes up, RF circuits generally scale in size and complexity with the wavelengths supported. Thus, it can be really difficult to find companies who are up for the challenge of providing components that are designed to help reduce SWaP
At Knowles Precision Devices, we are not only up for this, we encourage RF designers to bring us their most difficult challenges. As a result of the combination of our custom high K dielectrics, our experience working with high-precision thin-film photolithographic technology, and our ability to seamlessly integrate multiple passive components into a single circuit, we constantly have new and innovative ways to miniaturize RF components available.
Let's first look at how our high K materials inherently help reduce device size. Table 1 demonstrates the relationship between dielectric constant and wavelength at 25 GHz for three common dielectric materials as well as three custom substrates developed by Knowles Precision Devices (PG, CF, and CG).
| | | |
| --- | --- | --- |
| Material | Dielectric constant | ~Wavelength at 25 GHz (inches) |
| PTFE | 2.1 | .327 |
| FR-4 | 4.8 | .217 |
| Alumina, 99.6% | 9.9 | .150 |
| PG | 12.5 | .134 |
| CF | 25 | .094 |
| CG | 67 | .059 |
Table 1. This table shows how wavelength and dielectric constant are inversely proportional.
Looking at this table, you can see that Knowles Precision Devices' CF has a dielectric constant of 25 compared to a dielectric constant of 4.8 for FR-4. As a result, the wavelength for the device using CF material is 2.5x smaller than the wavelength for the device using FR-4.
Beyond building smaller circuits with our high K materials, RF designers can also take advantage of our approach to fabricating electronic components using precision thin-film technology. Since thin film generally ranges from fractions of a nanometer to several micrometers in thickness, RF designers can further reduce SWaP when integrating multiple components.
Additionally, since we have in-depth expertise in ceramics materials science and have developed proven precision thin-film techniques, we can build pretty much anything an RF designer can draw. Through our proven build-to-print process, we can help RF designers address their toughest challenges, especially when it comes to putting multiple circuit elements into a compact single surface-mount package. Figure 1 shows the actual size of some of the circuits we have developed.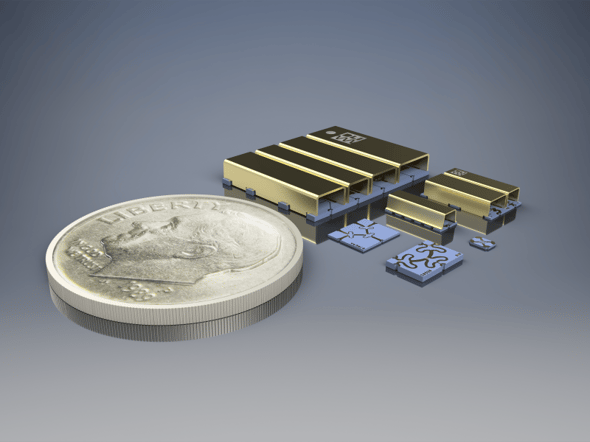 Figure 1. Using our high K ceramics, we consistently significantly reduce the size of circuits, even the complex ones, that we build for customers.
With our high K materials and thin-film expertise, we are helping RF designers meet industry demands to continuously improve the SWaP of their devices.
Download our white paper, Reduce RF Circuit SWaP with High K Materials and Precision Thin-Film Microstrip Technology, to learn more about how Knowles Precision Devices can help you design smaller devices.