Microwave Journal has released an all new mmWave RF Components Guide. This eBook is a collection of seven articles and white papers written to help you make the best component selections when designing your 5G products, several written by engineering experts here at Knowles. Here's an overview of what's included in the eBook.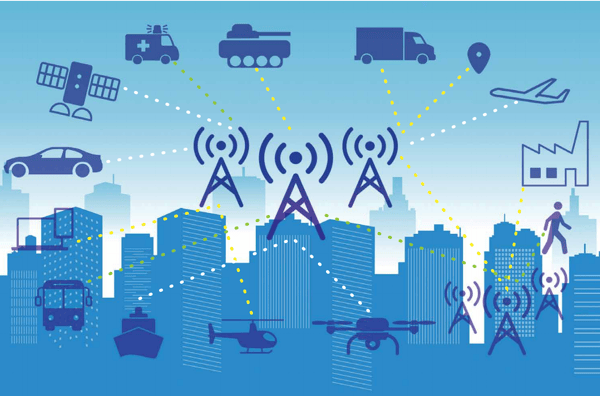 RF SOI Can Save $Billions in 5G mmWave Network Costs with Efficient PAs
One of the greatest challenges in 5G network implementation is the weakening of mmWave signals due to path obstacles. This can be partially overcome through the use of phased arrays. This article looks at the different semiconductor technologies that can be used in a phased array (RF SOI, CMOS, or GaN), focusing on the benefits of RF SOI. While there are benefits to all three semiconductor technologies, the authors argue that RF SOI achieves the best balance of cost, power efficiency, and output power.
Simplifying 5G Radio Design with a New Range of 28 GHz Bandpass Filters
As 5G technology gets closer to being released in the consumer market, designers are looking for ways to reduce technology costs. One way that Knowles Precision Devices is minimizing 5G radio costs is by offering customized filter modifications to adjust the performance to fit within the footprint of the radio. Rather than taking a "round peg, square hole" approach, KPD designs filter offerings to meet a range of needs across the ecosystem.
Liquid Crystals: A Power and Cost-Efficient Electronically Steerable Antenna Solution for 5G
Liquid crystal (LC)-based passive phase arrays are being offered as an alternative to expensive silicon-based electronically steerable antennas (ESAs) that have a higher power consumption. ESAs are an essential component for 5G networks at mmWave frequencies, so reducing cost and improving energy efficiency is key. This article explains that LC-based antennas combine liquid crystal display (LCD) technology with microwave LCs into an array design that is passive, using low power, and modular, thereby reducing cost as compared to traditional active antennas.
Building 5G Small Cells Without Compromising Performance
Small cells have proven valuable for extending signal penetration and increasing wireless density and these small, lightweight devices will continue to be a key technology for the data-intensive transition to 5G. This article discusses the critical building blocks that serve as the backbone of phased array systems and address the practical considerations for selecting these passive components, including size, tolerance, and thermal concerns.
Wilkinson Power Dividers and Feed Networks: A Brief Overview
Wilkinson Power Dividers offer the flexibility to be used to both split and combine output signals, making it a popular component for communication systems. If used with complex transmission line geometries, Wilkinson Power Dividers can be designed at a reduced size, making them ideal for small cell applications. However, development process and materials are critical to the divider's performance and can affect its implementation. This article reviews Wilkinson Power Dividers and provide considerations around implementing feed networks, including the use of Wilkinson Power Dividers inside beamforming networks.
The Role of Satellites in 5G Networks
There are multiple ways of supporting 5G radio access network (RAN) with satellites that are being explored right now, with the goal of a plug-and-play capability. LEO constellations and HTS satellites can help 5G signals extend to hard-to-reach areas, under-served areas, and moving platforms, and can be combined with terrestrial networks for a hybrid architecture. In a hybrid network, 5G signals will be able to be redirected to base stations on the ground by satellites or regenerated by the satellite. Satellites can also provide greater coverage than terrestrial base stations.
mmWave AESA Phased Arrays and MIMO Radar Trends: Aperture to Data
Active electronically scanned array (AESA) technologies are being used by many defense contractors in mission-critical systems. Thanks to unique combinations of technology, the overall size and weight of integrated AESA solutions has been greatly reduced. Research is currently being performed on how to integrate radar detection and digital-signal-processed data into aperture electronics, which offers a multitude of additional benefits.
To read the full articles, download the mmWave RF Components Guide from Microwave Journal.