As technology advances in the medical device space, electronics design is constantly adapting to meet industry needs. Since implantable medical devices must be embedded into the body, one of the main goals is to reduce physiological burden by minimizing the need for invasive surgeries. To achieve these goals, capacitors are just one of the many components that need to meet the demands of innovation, which today most commonly means the super-miniaturization of electronic circuits and advancements in capacitor materials and design.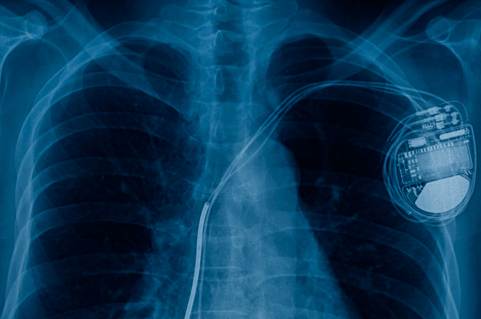 The advent of minimally invasive medical procedures and advances in categories like biocompatibility and power management have contributed to the rapid development of implantable devices.
Guidelines and Considerations for Capacitor Selection
Today, there are numerous factors steering capacitor choices including materials, leakage resistance, stability, and price. Strict guidelines also place more weight on reliability grade, size, and durability over other common parameters of importance in consumer devices and electronics. Additionally, standards such as MIL-PRF-55681and MIL-PRF-123 must be followed tomaintain the highest level of reliability in all phases of development and manufacturing for medical applications.
While weighing all these factors and choosing the right capacitor for a medical application is critical, it is also important to choose the right supplier. An experienced supplier becomes a trusted partner that can advise your engineering team early in the development process to avoid costly, or potentially life threatening, mistakes. Knowles Precision Devices (KPD) is the premier global source for manufacturing high-performance multi-layer ceramic capacitors. Our team of experts can help you work through your toughest development challenges and find components that meet demanding specifications.
As a result of today's advancements in implantable medical devices, the industry continues to see improved patient outcomes with a range of applications from pace makers to pain management and glucose monitoring.
To learn more about the factors involved in selecting the right capacitor and supplier, download our whitepaper, When Reliability is Paramount: Selecting Capacitors for Life-Critical Applications.