On Thursday, April 16 at 11am EDT Knowles Precision Devices and Microwave Journal will host a live Webinar about the practicalities of building a 28 GHz small cell for 5G applications.
As the demand for more network capacity, improved network performance, and more reliable coverage are all growing, small cells are becoming an increasingly common way to deploy 5G in the mmWave spectrum. Phased array systems are critical to these 5G small cells, allowing engineers to enter the mmWave spectrum and take advantage of the higher bandwidth and speed 5G offers in a way that is practical and affordable.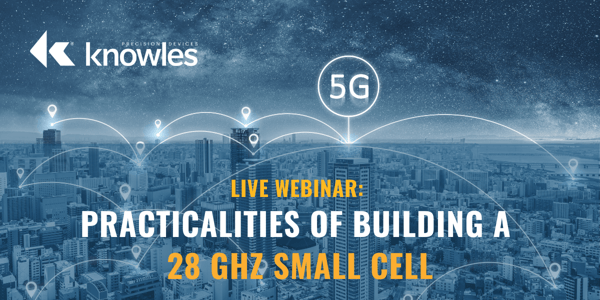 During this Webinar, we will discuss the following topics around building a 28 GHz small cell for 5G applications:
Basic Requirements –Size restrictions, thermal constraints, efficiency, power, and cost
Selection Criteria – Options for implementing RF filtering at mmWave frequencies, such as newly available choices for the 28 GHz band
Considerations for Implementing Feed Arrays – Use power dividers inside beam forming networks and tradeoffs of power dividers at mmWave frequencies
We will also walk through a 5G small cell reference architecture and discuss the core components that can make or break your system and end with a Q and A session. Hope you can join us!