Knowles Precision Devices will be at the upcoming Optical Fiber Communication (OFC) Conference, the largest global conference and exhibition for optical communications and networking professionals, March 10-12 in San Diego. For over 40 years, OFC has drawn attendees from all corners of the globe to meet and greet, teach and learn, make connections and move the industry forward.
At the show, Knowles will demonstrate broad bandwidth optical networking solutions using our latest high-performance microelectronic components.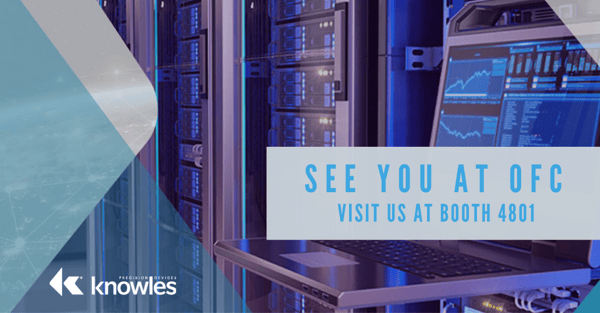 Come see us at Booth 4801 to learn more about high-frequency, small footprint capacitors and specialty components that help the world stay connected, including:
Single Layer Capacitors
Our single layer capacitors support microwave and mmWave applications up to 100GHz and are widely used in support of general DC blocking, low-noise amplifiers, power amplifiers, and high-power amplifiers, oscillators, and filters.
Bias Decoupling
To protect your high-frequency MMIC amplifiers from RF noise on the supply line, Knowles offers bypass capacitors with X7R characteristics up to 200V DC voltage rating, with a frequency range up to 40GHz and operating temperature of -55°C to 125°C.
Broadband Components
Our broadband components offer resonance free DC broadband blocking up to 40 GHz and feature X7R temperature stability of -55°C to 125°C, low frequency stability, and ultra-low insertion loss.
Knowles is a specialty components manufacturer, which means we choose to take on the complex challenges that come with high reliability, high temperature, high performance, and high frequency solutions. Our products can be found in every corner of the world, from 8,000 ft below the earth's surface to orbiting 254 miles above us on the ISS. Stop by our booth at the show to discuss how we can help solve your specific optical communications and networking challenges.